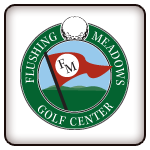 Flushing Meadows Golf Center is located in Flushing Meadows-Corona Park in Queens. It is next to Shea Stadium and the United States Tennis Center. It consists of an 18 hole "Pitch & Putt" golf course and a modern mini-golf course with water falls, bridges and streams. Both courses are fully lighted for night play. The golf course is the only one in NYC that is lighted. The golf course allows experienced golfers to sharpen up their short game and allows inexperienced golfers an introduction to the wonderful game of golf.
About Our Course
Our Pitch and Putt golf course is an excellent destination for golfers of all skill levels. Beginners to the game can enjoy the relaxed atmosphere while advanced golfers can sharpen their short game. 18 holes ranging from 40 to 80 yards, all accompanied with regulation size bent-grass greens, as well as Musco lighting combine to create an experience like no other in New York City golf. Golfer's need only bring their 9-iron, pitching wedge, sand wedge, and putter to enjoy a round at the Pitch and Putt. The facility also offers rental clubs and sells golf balls for those that may not have their own equipment.
One of the greatest pleasures of the Pitch and Putt is that a full round of 18 holes can be easily completed in less than 2 hours. During the summer the facility remains open until 1 AM so that we can accommodate our popular demand.
Conveniently located next to the national tennis center in Flushing Meadows Park, we are easily accessible by mass transit (only a short walk from the Shea Stadium stop on the 7 train) and for drivers, free parking is provided.
Pitch & Putt – Night Golf
Thanks to our innovative Musco sports arena lighting, night golf at the Pitch and Putt is extremely popular from the spring through early fall. We remain open until 1 AM during the golf season. Since we remain open after dark, there is no need to rush from work straight to the golf course if you really want to get in a few holes. We recommend calling ahead before you come to play as we often get busy at nig